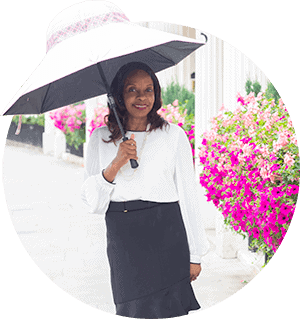 Teaching good manners to all manner of people
"Manners are a sensitive awareness of the feelings of others. If you have that awareness, you have good manners, no matter what fork you use"
Emily Post
Laura Akano is the principal Coach and Trainer at Polished Manners etiquette school. She has successfully taught children, teenagers and adults through her etiquette classes and afternoon tea events. Laura also provides private tuition, some of her clients are high net worth families and expatriates, including visitors from other countries. She has featured in television and radio programmes and contributed to newspaper and magazine articles.
Previously, Laura worked in various corporate administrative, customer services and retail roles. She originally trained as a dress designer and fashion merchandiser. She later studied social sciences with the 'Open University'. She also acquired various childcare qualifications whilst operating out of school clubs and holiday camps.
Laura decided to train as an etiquette coach because of her experience working with children. Becoming an etiquette coach was a natural progression as she has always been interested in learning about etiquette and is always keen on instilling and encouraging good manners.
Laura gained her etiquette certification having completed her training with one of the leading training institutions, 'The English Manner'. She also received international certification from 'The Etiquette Survival Group' and 'The Social Skills Company' in the United States of America. In addition to her qualifications, she brings a wealth of life experiences that compliment her etiquette classes for adults and children.