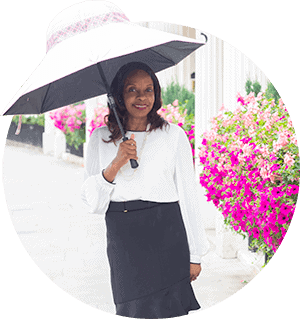 Teaching good manners to all manner of people
"Manners are a sensitive awareness of the feelings of others. If you have that awareness, you have good manners, no matter what fork you use"
Emily Post
Hello, I am Laura Akano, the Principal Coach and Trainer at Polished Manners.
When setting up my coaching programmes I was particularly inspired by my background in working with children.
I realised that a knowledge of good manners and social etiquette could give young people from any background an advantage, and could also help to foster good relationships, understanding and communication. And thus, Polished Manners was born.
I originally trained as a dress designer and fashion merchandiser and went on to a career encompassing corporate administrative, customer service and retail roles.
I later returned to education to study social sciences, which is where my fascination with human interaction took off, and I began to seek a deeper understanding of communication and etiquette.
My very first business, which I owned for 14 years, operated after-school clubs and other children's activities, and it was during this time that I acquired numerous childcare qualifications. It was this work with children combined with my lifelong interest in etiquette that sparked the inspiration for Polished Manners.
My professional experience and qualifications
I have delivered expert training to numerous children, teenagers and adults through my etiquette classes and afternoon tea events. I also provide private tuition to clients including high-net-worth families and expatriates, and visitors to the UK from other countries.
I gained my certification after training with one of the leading etiquette training institutions, 'The English Manner.' I also received international certification from 'The Etiquette Survival Group' and 'The Social Skills Company' in the USA. In addition to my qualifications, I bring a wealth of rich and varied life experience to complement my etiquette classes.
I have been invited to contribute to discussions or comment as an etiquette expert on various television and radio shows. I have also contributed to newspaper and magazine articles about manners and etiquette.